Mush-boom Basics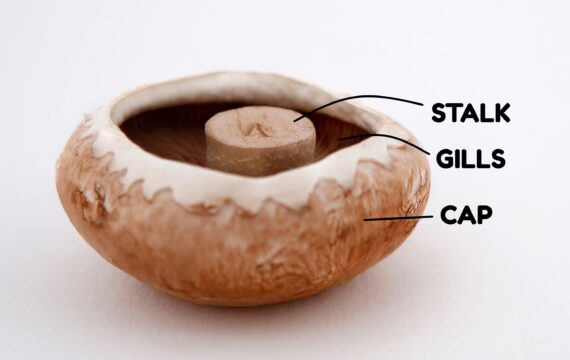 CAP – The dome shaped top of every mushroom is packed full of nutrients, which is why you should never peel them. Just like your own skin (but nothing like your hat), mushroom caps can absorb nutrients, including Vitamin D, when placed in direct sunlight. So give your little guys a tan before you put them in the pan.
GILLS – These delicate sheets take some warming up. You'll find them on the underside of your mushroom, becoming more exposed the longer they're left on the bed to grow.
STALK – Like a chunky smoothie straw, the stalk feeds nutrients directly into the cap, growing nice and thick to support the mushroom's head. Unlike your smoothie straw, mushie stalks aren't disposable – they're delicious! We recommend trimming any dry bits from the end, then eating the entire mushroom, stalks and all.
BEYOND SKIN DEEP – Mushrooms are sensitive, they can mark and bruise easily. Unlike other fruits or veggies though, these blemishes won't change the flavour of your mushrooms at all.
All taste, no waste!