Blended Taco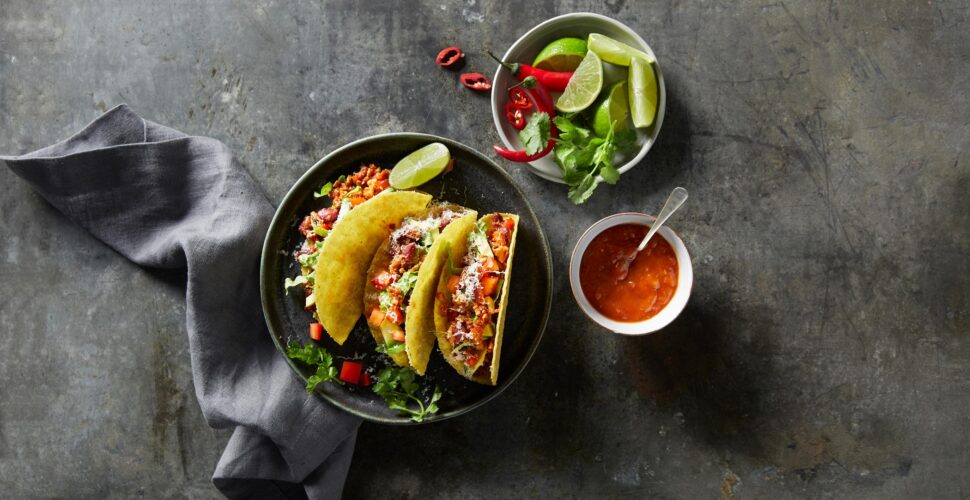 Cooking time: 20 mins
Serves: 2
Ingredients
250g lean ground beef
250g of thinly chopped mushrooms
1 medium onion chopped
1 teaspoon chili powder
½ teaspoon salt
½ teaspoon garlic powder
1 can (250mL) tomato sauce
12 crunchy hard taco shells
1 ½ cups shredded Cheddar cheese (175mL)
2cups shredded lettuce
2 medium tomatoes chopped
¾ cup Old El Paso™ Thick 'n Chunky salsa
¾ cup sour cream, if desired
Method
Heat the oven at 120°C
In large skillet, brown ground beef and onion over medium heat for 8 to 10 minutes or until beef is thoroughly cooked, stirring frequently. Drain.
Stir in chili powder, salt, garlic powder and tomato sauce. Reduce heat to low; cover and simmer 10 minutes.
Meanwhile, place taco shells on ungreased baking sheet. Heat at 250°F. for 5 minutes.
To assemble tacos, layer beef mixture, cheese, lettuce and tomatoes in each taco shell. Serve with salsa; top with sour cream.