Lamb Kofta with Flat Bread and Hummus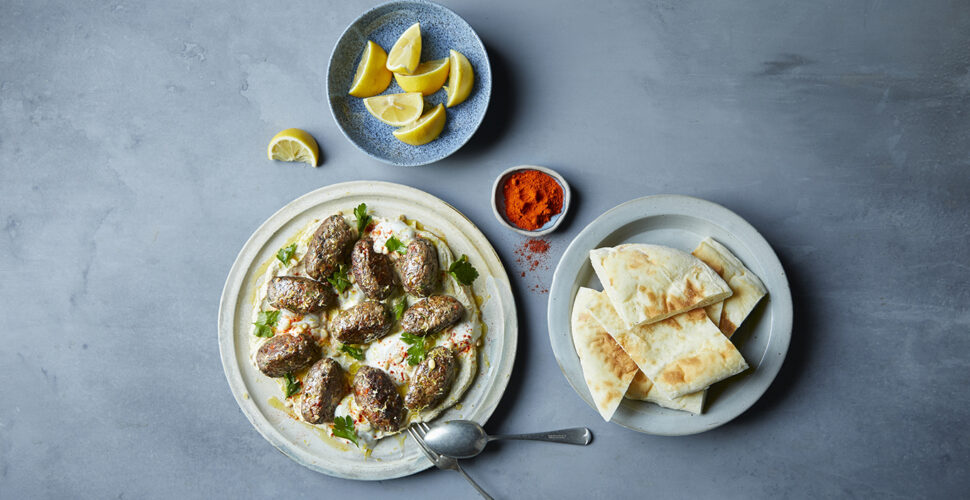 Cooking time: 1 hr
Serves: 4-6
Ingredients
4 tablespoons olive oil
4 cloves garlic, crushed
1 medium onion, finely diced
500 g diced mushrooms
400 g lamb mince
2 tablespoons pine nuts, roughly chopped
1/4 cup finely chopped flat leaf parsley, plus extra for garnish
1/4 cup finely chopped mint leaves
2 teaspoons cumin powder
1 1/2 teaspoons cinnamon powder
1/4 teaspoon clove power
1/4 teaspoon nutmeg powder
salt
pepper
200 g store bought hummus
1 cup plain yoghurt
zest of one lemon
paprika, to serve
flat/Turkish breads, to serve
Method
Heat 2 tablespoons of oil in a large pan over a medium heat. Add the onion and garlic, cook for 1-2 minutes or until softened. Stir through the mushrooms. Cook for 5 -7 minutes until softened and liquid from the mushrooms has evaporated. Transfer to a large mixing bowl. Set aside to cool.
Add the mince, pine nuts, parsley, mint, cumin, cinnamon, clove and nutmeg to the mushrooms. Season with salt and pepper. Using clean hands massage the mix together well. Divide and shape the mix into approx. 16 oval shapes. Place onto a tray and into the fridge to firm up for 20 minutes.
Preheat oven to 180 C.
Heat the remaining oil in large non-stick fry pan over a medium heat. Cook the kofta for 3-4 minutes, turning to brown each side. Place onto a tray and cook in oven for a further 5 minutes or until cooked through.
To serve; spread the hummus over a large serving plate. Place the kofta on top. Dollop over the yogurt, sprinkle with lemon zest and paprika. Scatter over the parsley and drizzle with extra olive oil. Serve with flat/Turkish bread.