Vegetarian Blended Mushroom Burger with Slaw!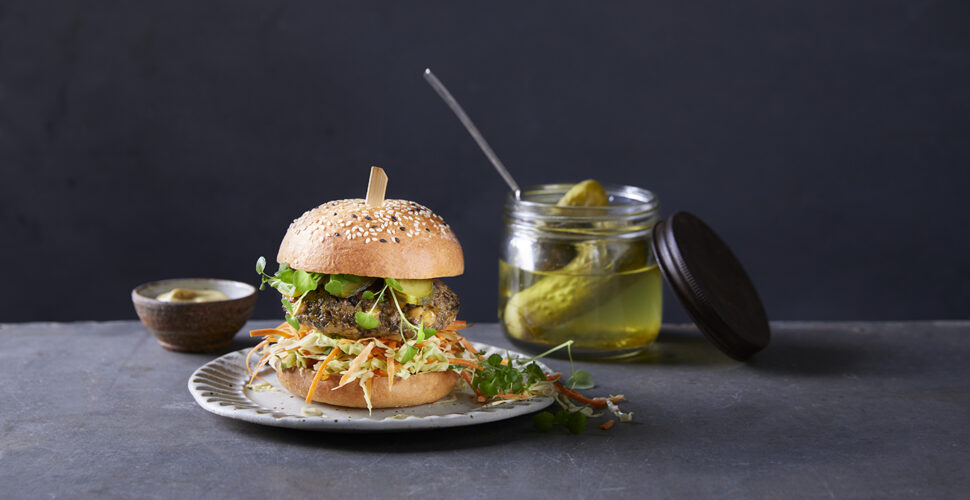 Cooking time: 1 hr
Serves: 4 burgers
Ingredients
4 tablespoons olive oil
1 medium onion, finely diced
4 cloves garlic, crushed
500 g diced mushrooms
400 g can white beans, rinsed and drained, mashed well with a fork
2 stalks rosemary, finely chopped
1 cup breadcrumbs
1/2 cup finely grated parmesan cheese
1 egg, lightly beaten
salt
black pepper
4 brioche buns, toasted
mayonnaise, to serve
coleslaw, to serve
pickles to serve
Method
Heat 2 tablespoons of oil in large pan over a medium heat. Add the onion and garlic, cook for 1-2 minutes or until softened. Stir through the mushrooms. Cook for 5-7 minutes until softened and liquid from the mushrooms has evaporated. Transfer to a large mixing bowl. Set aside to cool.
Stir through the beans, rosemary, breadcrumbs, parmesan and egg. Season with salt and pepper. Using clean hands massage the mix together well.
Divide and shape the mixture into 4 equal-sized patties. Place onto a tray and into the fridge to firm up for 20 minutes.
Preheat oven 180 C.
Heat the remaining oil in large non-stick fry pan over a medium heat. Cook the burgers for 3-4 minutes on each side on until cooked through. Place onto a tray and cook in oven for a further 5 minutes or until warmed through.
Spread mayonnaise over the base of the toasted brioche buns, top with coleslaw, mushroom patty and pickle, top with the lid of bun.