Honey Soy Chicken Stir-fry with Mushrooms and Hokkien Noodles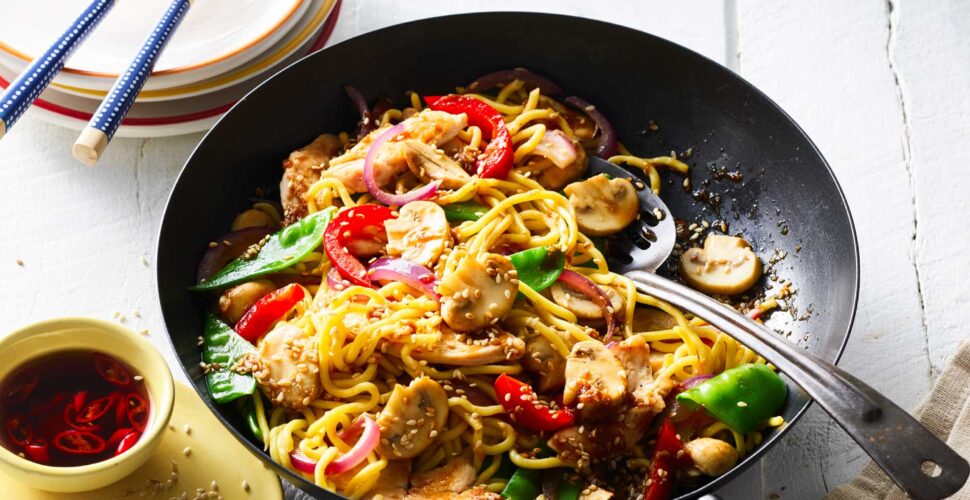 Cooking time: 20 mins
Serves: 4
Ingredients
3cm piece of ginger, finely grated
2 garlic cloves, finely grated
2tbs honey
1/3 cup light salt-reduced soy sauce
1tbs toasted sesame seeds, plus extra to serve
2tbs peanut oil
1 red onion, sliced
400g chicken breast, thinly sliced
400g cup mushrooms, sliced
1 red capsicum, chopped
100g snow peas, blanched
440g thin Hokkien noodles
Optional: Sliced chilli and salt-reduced soy sauce to serve
Method
Combine ginger, garlic, honey, soy and sesame in a bowl. Set aside.
Place noodles in a bowl. Place capsicum and snow peas in a separate bowl. Cover both with boiling water and set aside for 3 minutes. Drain.
Heat half the oil in a wok over high heat. Add onion and mushrooms stirring constantly for 3 minutes until softened and slightly brown. Add snow peas and capsicum, cook for 2 more minutes, then set aside. Reheat the remaining oil until smoking. Add chicken and cook for 4 minutes, stirring often until cooked through. Add soy sauce mixture and leave to bubble for 2 minutes, to thicken slightly.
Return all vegetables and blanched noodles to wok. Toss to coat and sprinkle with extra sesame seeds. Serve with sliced chilli and light soy sauce.
Eat as soon as its ready!