Mushroom Haloumi Burger by Leah Itsines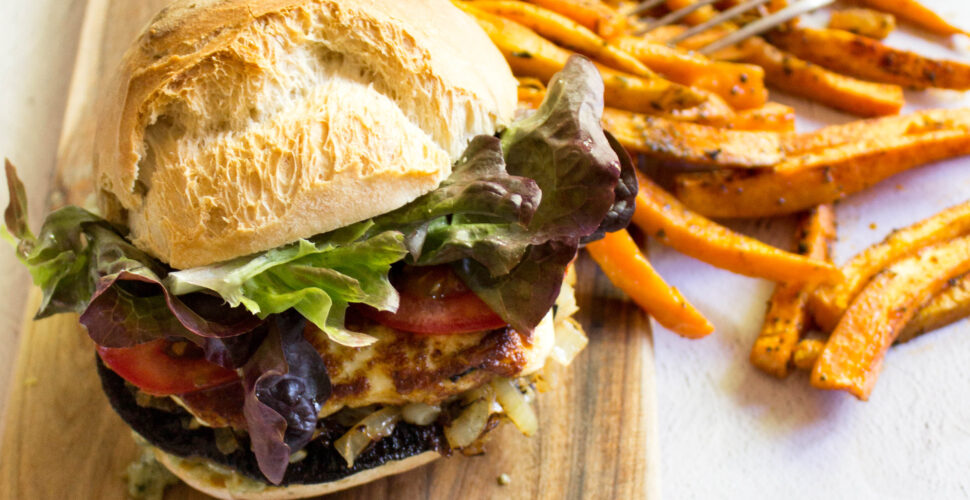 Cooking time: 20 mins
Serves: 1
Ingredients
1 Large Portobello or Flat Mushroom
1 Ciabatta roll (or burger bun of your choice!)
½ brown onion, sliced thinly
2 lettuce leaves, chopped roughly
2 tomato slices, sliced thinly
¼ teaspoon of chilli flakes
½ teaspoon of chopped parsley
2 tablespoons of olive oil
Sprinkle of Salt & pepper
1 Tablespoon of whole egg mayonnaise
1 Tablespoon of Basil Pesto
60g Haloumi, sliced thinly
Method
Cut the stem of the mushroom and brush any excess soil with a damp cloth.
Into a small bowl, add olive oil, parsley, chilli flakes and a small pinch of salt and pepper. Mix thoroughly.
Using a basting brush, brush olive oil mixture all over the mushroom, make sure it's all covered!
On a small non-stick pan, heat over a medium heat. Cook mushroom for 4-6 minutes on each side, covering it with a lid to steam.
Whilst this is cooking, on another small non-stick pan, splash a small amount of olive oil and heat on high. Add onions into the pan with a pinch of salt and cook for 5 minutes (or until cooked to your liking!)
Take onion out of the pan and add haloumi. Cook until lightly golden brown on each side.
Toast the bread under the grill for 2-3 minutes until lightly toasted.
In a small bowl, add pesto and mayonnaise into a bowl and mix.
It's time to STACK! On the bottom of the burger bun, smear mayonnaise mixture edge to edge. Add mushroom, onions, haloumi, tomato and lettuce leaves.
Eat as soon as its ready!