Fast & Fierce Mushroom Pizza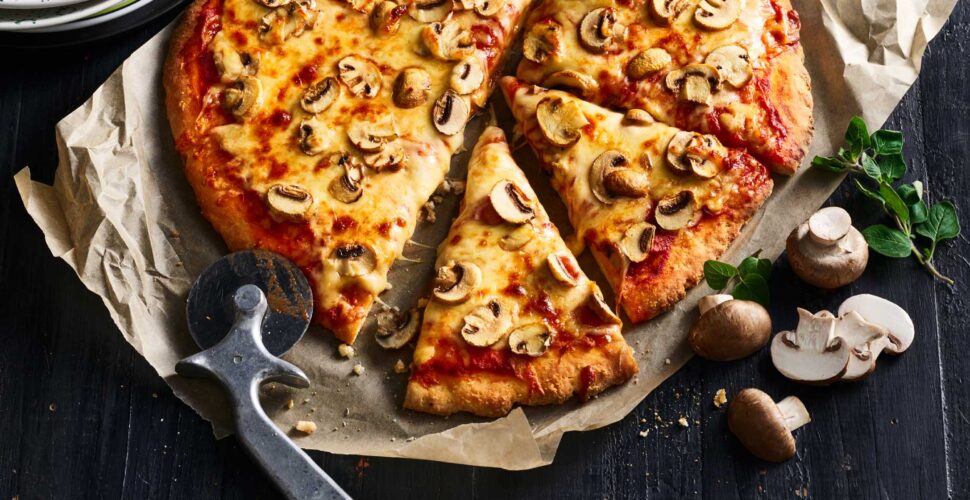 Cooking time: 15 mins
Serves: Makes 1 pizza
Ingredients
300g self-raising flour, plus extra for dusting
300g Greek yoghurt
1 1/2tsp baking powder
1/4 cup olive oil
1 garlic clove, finely grated
1/3 cup Passata sauce
200g pizza cheese
150g white sliced mushrooms
Method
Preheat oven to 220°C Fan Forced.
Place flour, yoghurt, baking powder, 1 tbs of olive oil and 1 tsp salt in a food processor. Pulse until it forms a dough. Place dough on a floured surface and form a ball.
Roll out with a rolling pin to form a 30cm circle. Combine garlic and oil in a small bowl, then season with salt and pepper. Brush some of the oil over the pizza tray. Cover with dough and brush with more oil.
Add Passata sauce to remaining oil, mix and use to coat the dough.
Top with cheese then mushrooms.
Bake in the oven for 8 minutes then, switch the oven to grill and cook for a further 2 minutes, or until golden and the cheese is bubbling.
Slice and serve.
Note: If you don't want to make a pizza base, you can use a store bought one.