Mushroom, Zucchini and Bacon Family Frittata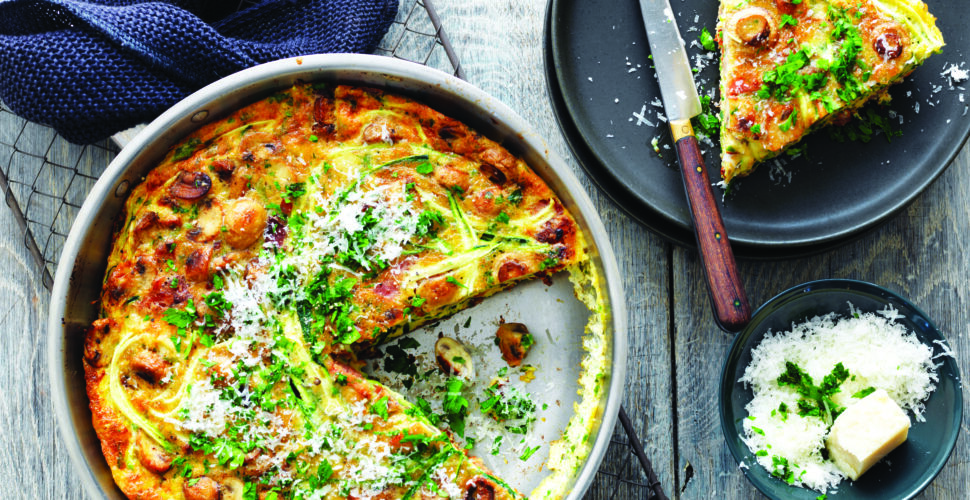 Cooking time: 20 mins
Serves: 4
Ingredients
2 bacon rashers, rind removed, coarsely chopped
20g butter
250g Button Mushrooms, halved or larger ones quartered
1 cup parsley leaves, coarsely chopped
50g parmesan, finely grated
8 eggs, lightly beaten
1 tbsp olive oil
2 zucchinis, coarsely grated or shredded
Salt and pepper, to season
Method
Heat a 22cm non-stick ovenproof frying pan over high heat. Cook the bacon for 3 minutes or until golden, then remove and set aside and reduce heat to medium-high. Melt the butter in the pan. Cook the mushrooms for 5 minutes or until golden, tossing the pan regularly. Remove and set aside.
Meanwhile, stir most of the parsley and parmesan through the eggs, reserving some to serve. Season with salt and pepper.
Heat the oil in the pan over medium heat. Pour the egg mixture into the pan, then top with the bacon, mushrooms and zucchini. Cook the frittata for 4 minutes or until golden on the base.
Meanwhile, preheat the grill to high. Grill the frittata for 5 minutes or until golden. Scatter with the remaining parsley and parmesan to serve.