Spaghetti & Mushroom Bolognese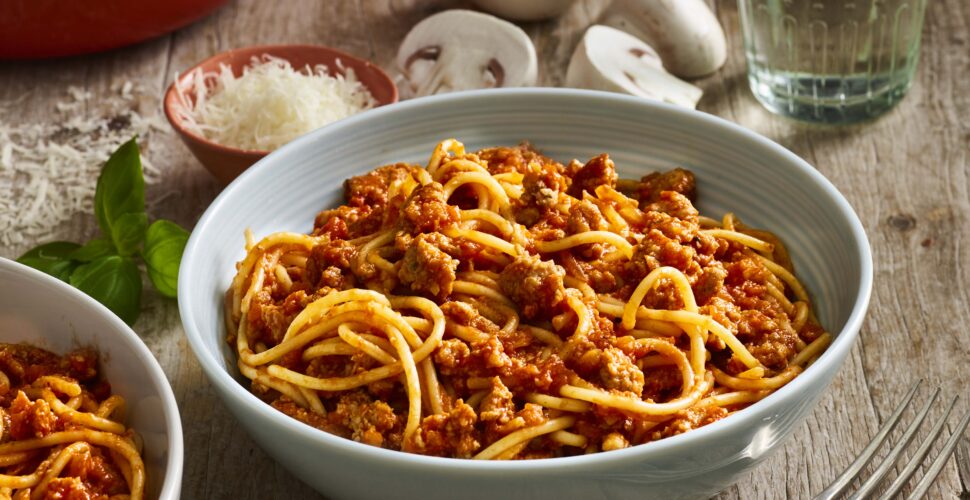 Cooking time: 30 mins
Serves: 4
Ingredients
400g cup mushrooms (sliced or diced)
1 brown onion. diced
2 garlic cloves, crushed
2tbs olive oil, extra for drizzling
300g pork sausages in natural casing (Italian or pork & fennel)
or
300g of Beef and Pork 50/50 blend
¼ cup Tomato Paste
1 cup Passata sauce
300g spaghetti
Fresh basil
20g parmesan to serve
Method
Heat large non-stick fry pan over high heat.
Add onions and garlic and sauté until translucent. Add mushrooms and cook through then add meat (if using sausages, remove the meat from the casings and cook through). Cook for approx. 4-6 mins.
Add Tomato Paste to mixture & cook for a further 4 minutes.
Reduce heat, add Passata sauce & simmer for a further 2 minutes.
Meanwhile bring a large pot of water to the boil & cook pasta to packet instructions.
Strain & set aside.
Add pasta to sauce & serve with basil leaves and shavings of Parmesan.