Sticky Mushroom & Pork San Choy Bao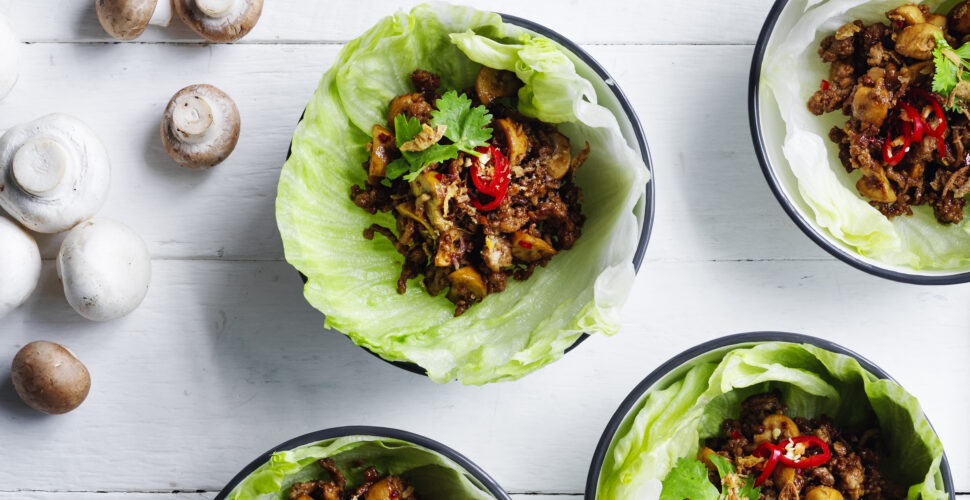 Cooking time: 30 mins
Serves: 4
Ingredients
2 garlic cloves, chopped
3 cm piece ginger, peeled, chopped
1 long red chilli, deseeded, chopped
2 tbsp peanut or vegetable oil
300 g Swiss Brown, cup or button mushrooms, quartered
400 g lean pork mince
2 tbsp kecup manis or hoisin sauce
1 tbsp oyster sauce
8 ice berg lettuce, trimmed to serve
Coriander sprigs, to serve
thinly sliced red chilli, to serve
fried Asian shallots, to serve
Method
Combine garlic, ginger and chilli in a small food processor. Process until finely chopped.
Heat a wok over high heat until hot. Add half the oil and the mushrooms. Stir-fry for 3 minutes until light golden, remove to a bowl. Add remaining oil and mince, stir-fry until mince changes colour. Add garlic mixture, stir-fry 2 minutes until aromatic. Return the mushrooms then add the kecup manis and oyster sauce, stir-fry until sticky.
Spoon into lettuce leaves, top with coriander, chilli and shallots. Serve.
No Asian shallots at home? Use roasted salted peanuts or crispy fried noodles.
Going Meatless – turn this into a meatless main meal, replace the pork with an extra 500g mushrooms, so in total you need 800g mushrooms (a combo of flat, cup and Swiss Brown)