Jodie Fairweather @bondi_mumma
When it comes to getting the healthy stuff into the mouths of fussy eaters, it feels as though the war is never won.
As a mum, I've worked hard to create delicious recipes that not only bring my family together after a big day, but also serve up the necessary veggies that my kids need to stay healthy and happy – including Vitamin D and B packed mushrooms, the often unheralded superstars of the weekly shop.
It's no secret that my Maltese heritage and culture is all about homemade cooking, flavour and kitchen creations. Growing up, cooking in the kitchen with my mum and nanna had such a positive impact on my life, so much so that I always try to pass these much-loved family traditions onto my kids.
I'd tried everything from zucchini to carrots, kale to pumpkin. That was until my eldest son, Hugo, added tasty little white cup mushrooms to his weekend breakfast cook-up, and hasn't looked back since.
Send in the mushrooms!
As soon as I mention the "V" word ("vegetables"), the kids decide that they're no longer hungry. Let's be real, the two fussy eaters of the family go to battle when I ask them to eat a single pea, so getting them to stomach a high-protein veggie (actually, a fungus – but don't say that in front of the kids!) was set to be a challenge.
That was until Hugo became the Masterchef in the kitchen on weekends and introduced his tasty brekkie cook up, with the starring ingredient – yep, you guessed it – mushrooms!

Tossed in a pan with garlic, lemon, and fresh thyme, Hugo's mushroom dish is served on toast with goat's cheese, alongside scrambled eggs. It's SO tasty. This awesome mushy dish has become a weekly event in our home and is something that Hugo looks forward to dishing up after a big week at school. And, it was a game changer.
Ready to try cooking super tasty meals with mushrooms?
Recipe: Chipotle mushroom tacos
Recipe: Delicious meat-free meals
"Every weekend, we're now seeing Hugo not only cook the mushrooms, but eat them, too! Yum!"

JODIE FAIRWEATHER @bondi_mumma
How to bring the mushroom-boom
I've been slipping in mushrooms to my veggie-packed Bolognese sauce, sausage rolls and slow-cooked lambs shanks for a while now, which my kids are none the wiser about.
Blitzing around eight veg – carrot, celery, zucchini, onion, garlic and a handful of spinach and mushrooms – means that it's packed with flavour.
No one's noticed, which I confidently call a complete success, and I feel comfortable knowing that my fussy eaters are getting enough vitamin B and D in their diets.
Week after week, the kids have been eating their mushrooms, and the stress of giving the kids food that tastes great and is actually good for them has been lifted.
"Making sure that mushrooms are on the menu, even if the kids don't realise it, means that their developing palettes will soon be open to sampling mushies in all their amazing varieties – Portobellos here we come!"

JODIE FAIRWEATHER @bondi_mumma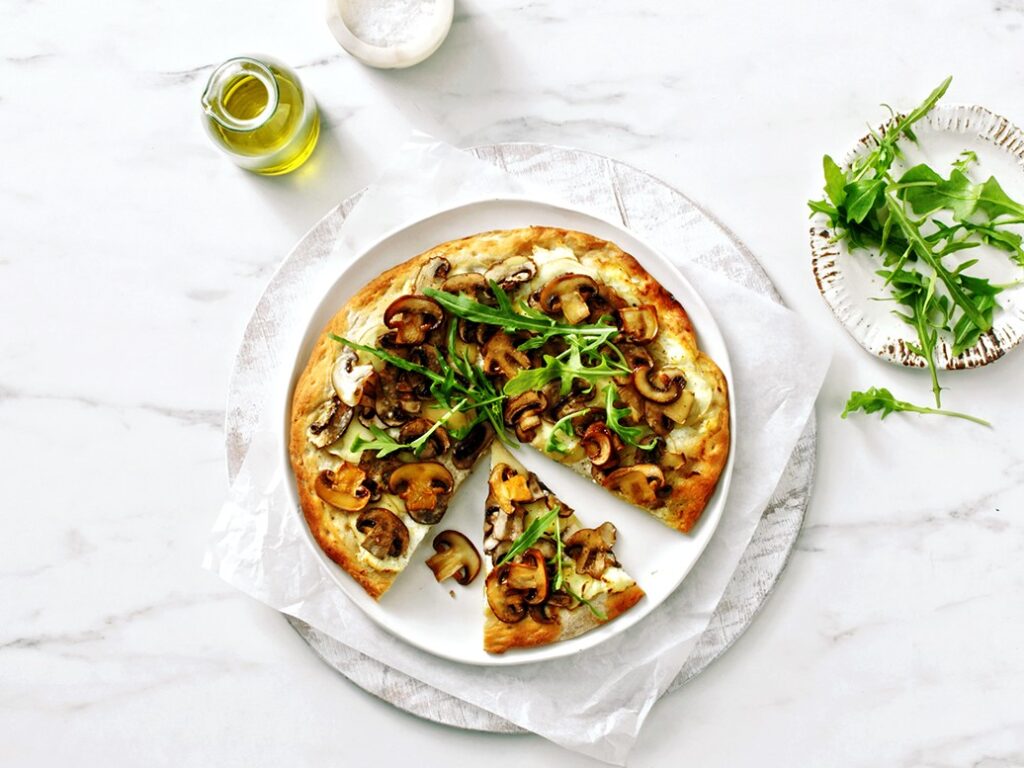 Mushrooms: The key ingredient in family faves
The world is truly your mushroom! There's no task too big or too small when it comes to incorporating these guys into your everyday cooking. Here's some of the best (and easiest) dishes to add them to:

Veggie-packed bolognese: Create your own version using any mushrooms and veggies you have in the fridge – large flat white or brown mushrooms, Swiss for some extra flavour – the key is to chop them finely or blitz up in your blender. You can even now get mushroom mince pre-prepared at some supermarkets, if you don't own a blender. An easy win with fussy eaters.

Slow cooked wonders: try adding your fave brown mushrooms to that staple stroganoff recipe – just phase down the meat, and up the mushies. It adds a delicious flavour to your meal (and the kids won't notice).

Mushroom stir fry: A meat-free Monday winner: try replacing your traditional beef with protein-packed mushrooms and tofu. Delicious, and healthy. 4. And of course, Hugo's big breakfast: Create your own version, but include mushies on the side! Hugo's confidence in cooking has skyrocketed because he has discovered fresh ingredients that he not only loves to cook with, but eat too!
"Seeing my son shine in the kitchen while cooking with quality ingredients that are as tasty as they are healthy is something I'm so proud of."

JODIE FAIRWEATHER @bondi_mumma
The summer of mushrooms
So, with the sunny days of summer finally here, I've decided to take a leaf out of Hugo's book and start using this deliciously healthy, uniquely tasty ingredient as inspiration in more of my family's meals.
And, if that doesn't work, I'll sneak them into some Bolognese sauce and pretend it never happened.
Follow Jodie Fairweather on Instagram @bondi_mumma