Mushroom Carpaccio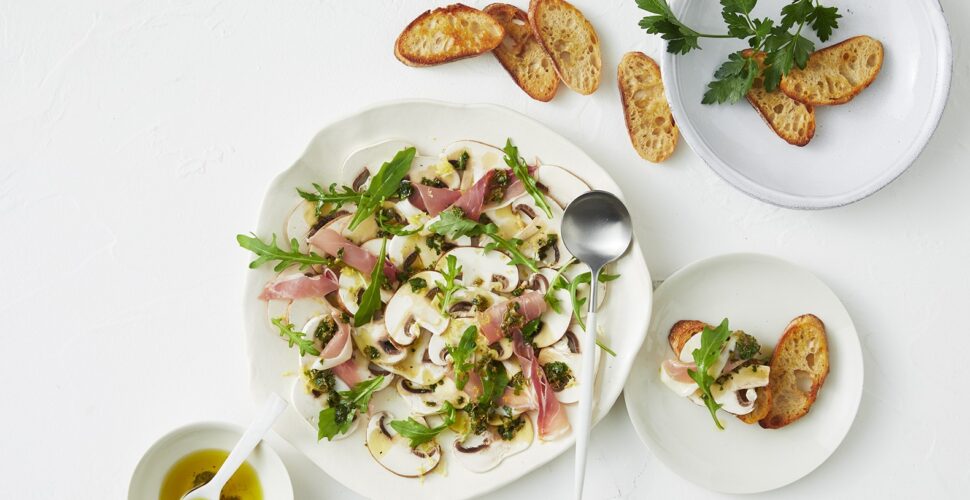 Ingredients
Cooking time: 15 mins | Serves:  6-8 (shared plate)
¼ cup extra virgin olive oil, plus extra to drizzle
2 teaspoons finely chopped capers
Zest of 1 lemon
1 1/2 tablespoons lemon juice
1 tablespoon finely chopped fresh flat-leaf parsley
200g brown and white cup mushrooms, thinly sliced; or 200g white flat mushrooms, thinly sliced
20g baby rocket leaves
20g thinly sliced prosciutto, torn
Toasted bread or baguette, to serve
Method
Place oil, capers, lemon juice and parsley in a small bowl. Season with salt and pepper. Stir to combine.

Arrange mushrooms in a single layer on a large serving plate. Drizzle over dressing. Top with rocket, prosciutto and lemon zest. Serve with bread.
Cook's note:
You can also make this recipe ahead of time. Dress mushrooms and store covered in the fridge for up to 3 hours. Add rocket and prosciutto when ready to serve.