Stir-Fried Snow Peas, Cabbage & Mushrooms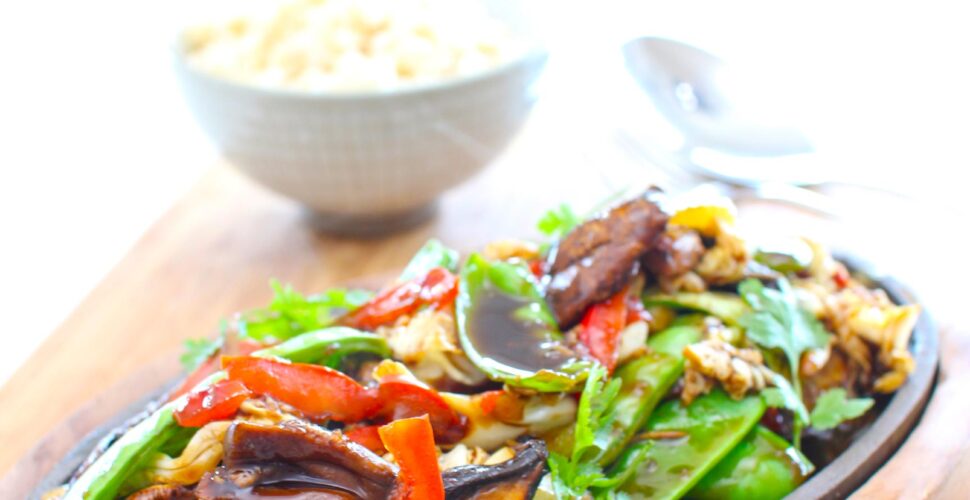 Ingredients
2 tbsp cornflour
2 cup liquid vegetable stock
2 stalks celery, sliced on diagonal
1 red capsicum, finely sliced
6 large mushrooms, sliced
¼ small wombok, roughly chopped
1 tbsp grated ginger
2 cloves garlic, chopped
4 handfuls snow peas, topped & tailed
2 tbsp sweet chilli sauce
2 tbsp soy sauce
2 tbsp vegan oyster sauce
2 tsp rice-wine vinegar
2 cups cooked brown rice
Method
Add cornflour to vegetable stock and stir.
Heat wok on high heat.
Add celery, capsicum and mushrooms. Stir-fry for 1 min then add wombok, ginger, garlic and snow peas and continue to stir-fry for a couple of mins.
Add sweet chilli sauce, soy sauce, oyster sauce and vinegar and stir.
Add stock and cornflour mixture. Mix well and stir until sauce returns to boil and thickens slightly.
Serve with cooked brown rice.
Recipe Courtesy of Adam Guthrie and Eat Well Magazine